Birthday Weekender Update
Hi everyone!
Unfortunately the news from Boris has meant that the Birthday Weekender Camp Out has had to be postponed another year until 2022… We have had the dates confirmed by Unity now and the new weekend is Friday 8th – Sunday 10th April 2022.
All existing tickets have been automatically rolled over – if you already have tickets then the great news is that you don't need to do a thing! If you didn't have tickets for the event but would like to attend in 2022 we will have tickets back on sale soon.
 We are keeping everything crossed that 2022 will let us Dub like we used to – Dan from A-Plan has confirmed his attendance already and will be bringing you all a quiz, our tug-of-war rope will be out again along with our skittle alley and some other family friendly games to give both the young and old something to occupy themselves whilst not taking in a walk along the beach or around the lovely countryside surrounding the site, a game of golf at the course next door, a water adventure at Brean Splash, an exhilarating visit to Brean Leisure Park or just generally chilling out around the local area.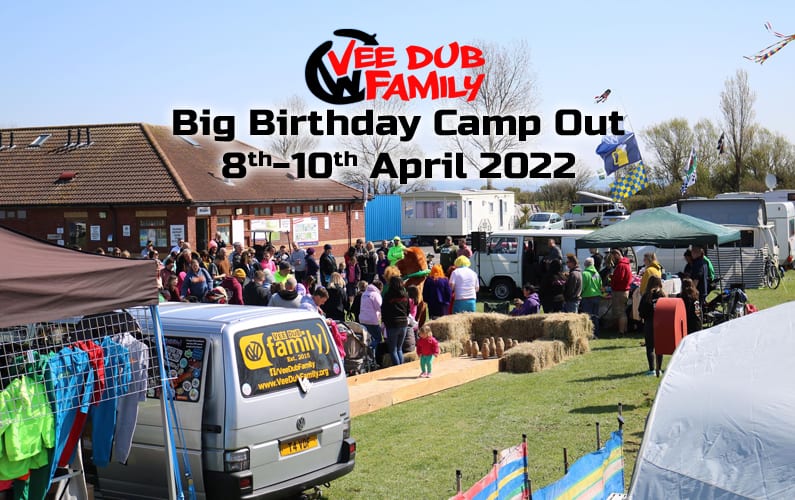 We will announce our fancy dress theme nearer the time and we'll be encouraging you to dress your pitches up along with yourselves for the chance to win some prizes. 
Thank you all again for your continued support especially given the last years worth of global uncertainty, it has been really challenging for us to keep motivation now having to postpone our birthday campout and Cruise to the Prom for two years in a row. We can't wait for 2022 and being able to get everyone round some fire pits and enjoying all of your company once again.
Steve, Sam and your awesome Admin Team