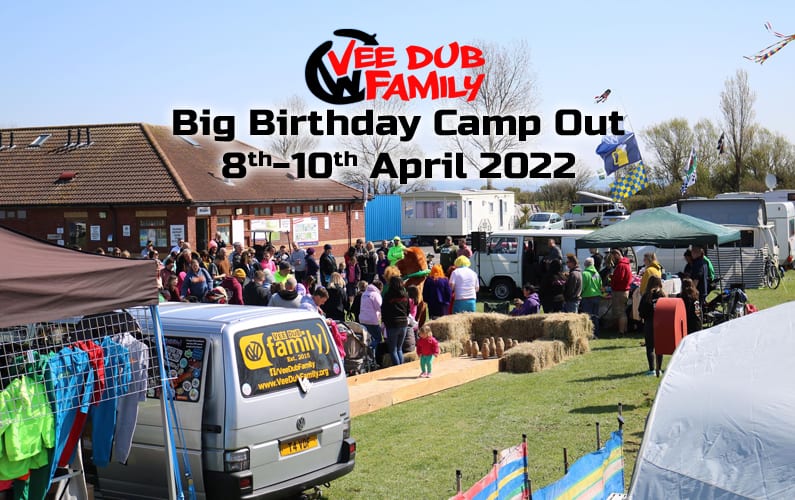 **********
UPDATE – FEBRUARY 2021
Due to Corona virus restrictions, the event has been rolled over to April 2022
Dates are now 8th – 10th April 2022
**********
2022 is our 7th Birthday and we're going back to Unity Farm in Brean for a big camp out to celebrate. We'll have some fun and games throughout the weekend again including kids & adults tug of war competitions, a quiz run by Dan from A-Plan, a fun dog show and more.
As with 2019, everyone will get discounted entry into both Brean Splash and Brean Leisure Park as part of your ticket price. Each pitch can have a maximum of one sleeping unit and 6 people (4 adults max). You are able to add extra nights on to your stay for just £10 per pitch again too! When booking you must ensure that your camping setup will fit in the pitch you select.
When booking please note the following:
Caravans and motor homes must book 10m * 10m pitches.
If you book more than two 10m * 5m electric pitches but no 10m * 5m non-electric pitches then we cannot guarantee that all of your pitches will be together due to the field layout.
You must supply an accurate vehicle registration on your booking. Access into Unity is ANPR controlled, entering the wrong registration on your booking will require you to go into Unity reception upon arrival rather than coming directly to our area to be checked in.
Max of one vehicle on 10 * 5m pitches, max of two vehicles on 10 * 10m pitches (only one sleeping unit). Please note we do not have space to accommodate extra vehicles on site. Second vehicles on 10x10m pitches will incur an extra £3 charge.
This is not an event with traders or caterers. You will need to spend your money on something non-vw related locally and cook for yourselves! (or use the chip shop or pub… 🙂 )
More details will be released as and when we plan things, but if you have any queries you can just drop us an email at weekender@veedubfamily.org.
All tickets from 2020/21 have automatically been carried over to 2022 due to the postponement of the 2020/21 events.